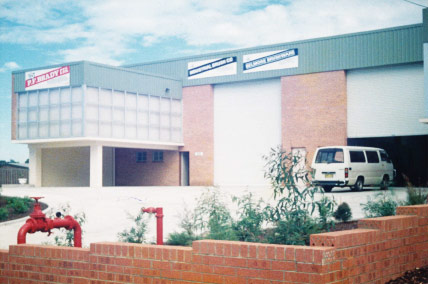 Back in the year 1927 one of the best known names in the field of Industrial Brushes - P.F. BRADY PTY. LTD. was founded. Brush manufacturing first operated in a narrow fronted three storey building in Little Oxford Street, Darlinghurst. All manufacturing work then was carried out by hand. At one time the company had thirteen people employed hand crafting the large brooms used by councils and other users, for street, yard cleaning and similar heavy work.
In July 1964 the company moved to 91 Lord Street, Newtown where manufacturing operations, storage facilities and prompt delivery service were provided.
In 1985 P.F. BRADY PTY. LTD. - Incorporated with INDUSTRIAL BRUSH COMPANY manufacturers of Industrial Brooms and Brushes for the industry.
In June 1988 P.F. BRADY PTY. LTD. acquired BELMORE BRUSHWARE. Manufacturers of Twisted Wire, Bottle, Test Tube and Flue Brushes.
To meet the recent demands of increased production and rapid expansion, P.F. Brady Pty. Ltd. Incorporated Industrial Brush Company and Belmore Brushware moved to our current location, 25 ELIZABETH STREET, CAMPSIE. Our expansion allowed us to provide additional benefits including more efficient manufacturing operations, the latest computerised machinery, large storage facilities and as always, prompt delivery service.
In November 1990 P.F. BRADY PTY. LTD. acquired another brush company — ENDURANCE BRUSH, a leading Australian manufacturer and distributor of Yard Brooms, Council or Gutter Brooms and Street Sweeper Rollers.
In July 1992 P.F. BRADY PTY. LTD. obtained COMMONWEALTH BROOM which was the founder of the broom and brush industry.
P.F. BRADY PTY. LTD. Inc: INDUSTRIAL BRUSH COMPANY, BELMORE BRUSHWARE, ENDURANCE BRUSH, COMMONWEALTH BROOM are all fully owned and operated Australian Companies, serving the trade as a reliable supplier of quality, fully Australian Made Industrial Brushware. We are a progressive and expanding Company. Our updated catalogue has now been released and features all of our additional quality products.